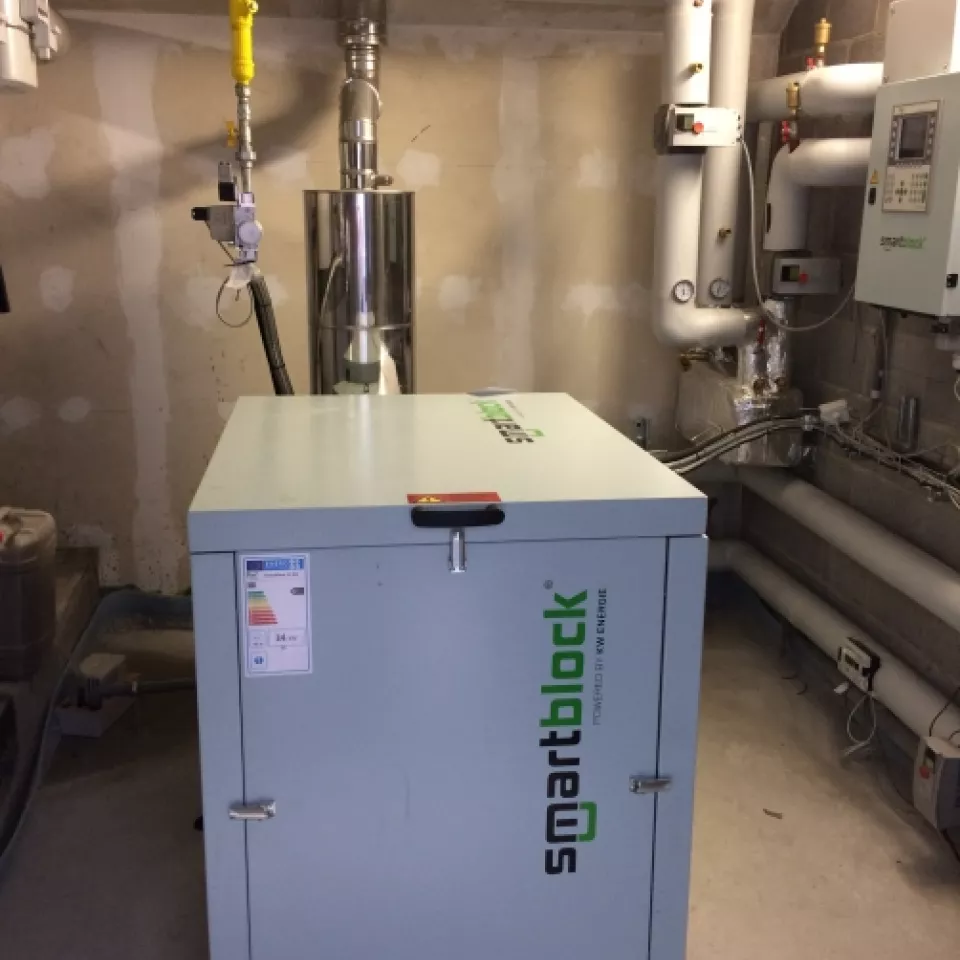 What is cogeneration?
A cogeneration unit generates heat and electricity simultaneously. Hence the abbreviation CHP for "combined heat and power". This solution yields huge energy savings compared with conventional production facilities (furnaces/boilers and electric power plants).
How is that possible?
All the heat that is usually lost in the conversion of primary energy to electricity is recovered to heat the building or to provide domestic hot water (DHW).
Most of the electricity that is generated is used on site. That avoids line losses in long distance transmission and does away with electricity distribution costs.
This innovative solution can run on natural gas, vegetable oil, biofuel, or conventional fuel oil.
Cogeneration for whom?
To use a CHP unit to best advantage, you must need a minimum of heat. The ideal candidates for cogeneration are thus, typically,
blocks of flats
council housing with collective heating
sports centres
swimming pools
hotels
recreational and relaxation centres
nursing homes and rehabilitation centres
etc.
What is a micro-CHP unit?
A micro-CHP unit is a thermal engine rated at less than 50 kW coupled to a generator to produce heat and electricity at the same time.
The engine's heat emissions (from the radiator and exhaust) are recovered by a heat exchanger and fed into the heating circuit.
The generator generates electricity that may be used on site or sold (fed into the grid).
The dimensions, noise level, and gas emissions of a CHP unit are comparable to those of a dwelling's furnace or boiler.
What are the advantages of micro-cogeneration?
An up to 30% reduction in your energy bill
A payback period of 3 to 5 years, depending on the size and location of your establishment
A 25% abatement in your CO2 emissions: a true gesture for the environment
The possibility of financing the investment by a leasing or third-party investor scheme
Discover our mini- and micro-CHPs today!